CLASSES & WORKSHOPS
ABOUT TAI CHI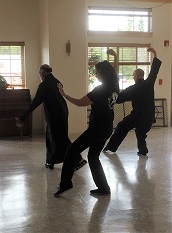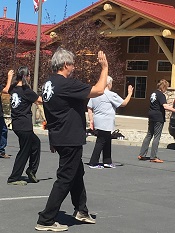 I am a Grandmaster of Tai Chi and Qi Gong. I have been a student and teacher of these arts for over 50 years. I teach an intensive class on the physics and science of movement as applied to Tai Chi and everyday life.
Tai Chi
Tai Chi is an art form that originated in China circa 1122 BCE. It is the science of working with the energy within the body. Tai Chi not only helps to maintain a person's physical health and mental balance but also is used to treat a number of illnesses without the use of any drugs. Tai Chi takes the participant through a range of movement and breathing methods to achieve maximum health benefits.
"Tai Chi philosophy is based on the principle of Taoism. Taoism philosophy expresses the thought of yield and overcome, bend and be straightened. The other main philosophical saying is "The softest things in the universe can overcome the hardest things in the universe; that which is without substance can enter where there is no room, henceforth, I know the value of nonaction." The Tai Chi philosophy teaches us to be gentle with all things and to be conscious of our actions and nonactions. Awareness is the key and a consciousness of the value of the beauty of life. So preservation of life and its treasures are its greatest assets. Loving ourselves and seeing the world as being ourselves without separation, we can move in oneness with all things." — Grandmaster Franklin
---
GROUP CLASSES AND INDIVIDUAL SESSIONS
Classes are offered in small group settings in La Pine and Bend, Oregon. Please see my class schedule for details of time and place.
I also offer individual learning sessions. You may contact me for further information and for arranging private tutoring.
The focus of my teaching is on the individual, not on the group. I teach the original form as it was taught in the monastery: unchanged—Taoist Tai Chi Chuan 108 movements. This holistic approach focuses on the entire body as well as the mental and spiritual aspects. Each movement is fully explained.